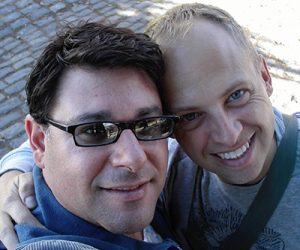 Thank you, for taking a few extra moments to learn more about us.  Tim and I have been together for 24+ years, married for 12 years and met on an off chance in Hollywood, some 24 years ago. Tim owns and operates and Visual Effects company here in Los Angeles and I sell residential and commercial real estate in the Beverly Hills / Sunset Strip areas.  We both collectively have approximately 30 years of experience in our respective fields and thoroughly enjoy what we do professionally.
We are an outgoing couple that enjoys the occasional night out, dinner with friends, stimulating conversations, movies that leave you thinking and of course, traveling to far off places.   We've been incredibly fortunate to be able to travel the world and meet, see and experience other people and their cultures. Having this gift has given us the unique opportunity to have personal growth in ways we never imagined for ourselves.  Having both come from modest means, our daily mantra is to live for the moment and collect as many wonderful life experiences as possible.
With real estate being one of our biggest passions, we felt it was a no brainer to extend our interests into the Share Economy world of Short Term Vacation Rentals. Our first property to rent short term was our French Decco Modernist, a post war French Decco condominium in Recoleta, Buenos Aires. We had such an amazing response, we felt this should be something we expand upon, with other types of architectural properties that we like. Gradually, we've added East Village Pied A Terre, a modern new build condominium in New York City. ILikeEiCH, an emotional Post and Beam Architectural home located in Palm Springs and coming soon, we are adding to our collection a Minnesotan North Woods, Architectural Mid Century Modern Lake house with 140′ of shoreline frontage.
Each property is very representative of our personalities. We've taken a simple idea of furnishing each property as though we are going to live there full time and embellished the architectural nature of the homes with furnishings that add style and comfort.  All our properties are carefully decorated to maximize space, utility and comfort for our most discerning guests….us.
If you are considering renting one of our properties and have questions, please feel free to reach out and call us.  We're very hands on and welcome any questions.  Our goal is to provide you with simple straight forward answers to your questions, so you may make an educated decision about your stay with us.
We Look forward to hearing from you.